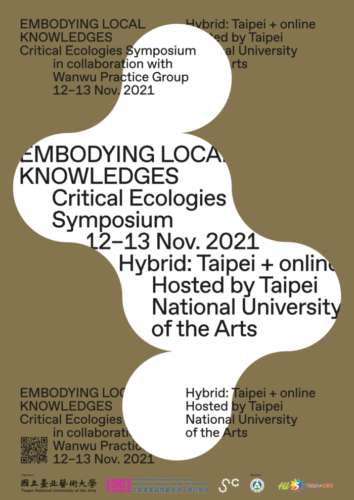 EMBODYING LOCAL KNOWLEDGES Symposium by Critical Ecologies
2021 marks yet another year of fatalities from natural and human disasters. With the COVID-19 pandemic and climate crisis spreading worldwide, we continue to rethink how to coexist with other living beings on Earth. Besides the natural ecology, how do we engage with other forms of ecologies, including social, political, artistic, and even academic ones?
As a member of Shared Campus, Taipei National University of the Arts (TNUA) is honored to host this first Critical Ecologies (CE) symposium, bringing together various academics, artists, and students concerned with the agenda from the CE theme group.
Our agenda is being formed with thoughts such as those of Canadian anthropologist Julie Cruikshank (2006) in her study of glaciers pointed out how "local knowledge" often conjoins social and biophysical processes. Tao Indigenous writer and anthropologist Syaman Rapongan from the Orchid Island of Taiwan reminds us how local philosophies from the ocean can teach us different values systems and ways of living. Brazilian Indigenous movement leader and philosopher Ailton Krenak observed that COVD-19 discriminates against humans, due to the way human societies work. "It does not kill birds, bears, or any other beings, just humans" (2020, 3). He even emphasizes that we have to abandon our anthropocentrism (2020, 6).
This symposium and conference bring together researchers and practitioners working in the intersections of art, ecology, indigeneity, geopolitics, as well as science and technology studies, to build a cross-regional network of sustainable collaboration.
*For more information of each panel, visit Shared Campus.
**Parallel event – Art and Critical Ecologies: Multiscalar Engagements organised by Wanwu Practice Group.
(Agenda subject to change)
Registration Period: 15 October 2021 15:30 (GMT+8) to 10 November 2021 23:59 (GMT+8)
Click HERE for registration form.
– All the panels are open on first come first serve bases. To ensure your priority access to the events, please fill in this form and register in advance.
– Reminder and Zoom Link will be sent to your contact email on 10th Nov.
– The Zoom room will open 5 mins before the panel starts. You are most welcome to log in before the panel started.
 *IMPORTANT NOTES*
*Please note that all events are conducted in English or in English subtitle.
*Due to the pandemic situation, all the events will be conducted via ZOOM.
*To protect your privacy, please feel free to hide your video or participate anonymously.
*The organizers reserve the right to change the content of the panels.
Further CE SYMPOSIUM Information please check this link.
Organiser: Shared campus x TNUA x IMCCI
Sponsor: University Social Responsibility  x  High Education Sprout Project
Advisor: Ministry of Education
Critical Ecologies Symposium TNUA team
Chair: Lin Yatin
Associate Chair: Chang I-wen
Program Coordinator: Lee Tsz Wai Vivien
Technical Coordinator: Christopher Chu
Main Visual Designer: TWO (t-wo.it)
Symposium On-site Design: Christopher Chu
Photographer/film Editor: Larissa Soto
Videographer: Liu Oi Ki Sally
Chinese-English Interpreter: Elliott Cheung
IMCCI Graduate Student Volunteers: Winna Go, Wayne Hong
Admin Support: Yip Ming Hoe, Juan Hsuan-Ya, Lee Wei Chuen,  Hsu Hoya